"Everything ends this way in France – everything. Weddings, christenings, duels, burials, swindlings, diplomatic affairs – everything is a pretext for a good dinner."
– French playwright Jean Anouilh
Introducing
Alain & Nadine Chevreux
For Alain and Nadine Chevreux, great food wasn't something you learned about. It was part of everyday living, as natural as breathing. Growing up in Alsace Lorraine and Paris, France, both were raised knowing how special sharing a meal with someone truly was. There's an intimacy in breaking bread with others. Alain and Nadine grew up to the sights, sounds, and scents of big family meals being prepared in kitchens full of meats and produce from local farmers. French food and family celebrations fed his passion for creating a total experience for people who delight in great food shared with friends.
Alain began his career as a DJ in France. Eager to add to his music collection, he traveled to the US to buy vinyl records…and he never left. He got a job as a busboy, starting on the bottom of the restaurant ladder. Never satisfied with simply standing still, Alain climbed rung after rung, working in restaurants in the West Village, Upper East and West Side, and Gramercy Park until he opened his first restaurant. Since those humble beginnings, Alain Chevreux has opened 8 restaurants in NYC, each well-received and successful. 
Today, Alain Chevreux shares his passion for French cuisine with his customers at Café du Soleil. From walk-ins to returning regulars, every guest is treated like family. Alain takes great pride in creating a total dining experience that caters to all senses. The sounds, smells, sights, touch, and tastes that Alain enjoyed as a child are recreated for your enjoyment at Café du Soleil.
Nadine shares Alain's creative cuisine through their catering ventures, Voila Caterers and Vegan Catering NYC. They offer the very best in catering and event planning featuring amazing French cuisine as well as an innovative and delicious approach to vegan & vegetarian offerings. Nadine's passion for event planning is equaled only by her ability to connect with her clients, capturing their vision and putting everything together perfectly.
Only the Best for Our Guests
Alain jealously guards the reputation of Café du Soleil by insisting on using only the finest ingredients in every dish. From our chicken and lamb to our 100% grass-fed premium steaks, as well as our garden-fresh vegetables and delightful wine selection, every meal is a celebration of good taste.
Equally tasteful is the thoughtful attention of our staff. With a genuine desire to help create a memorable dining experience, everyone at Café du Soleil treats every guest like family. Our decor, our food, and our staff all come together for your enjoyment.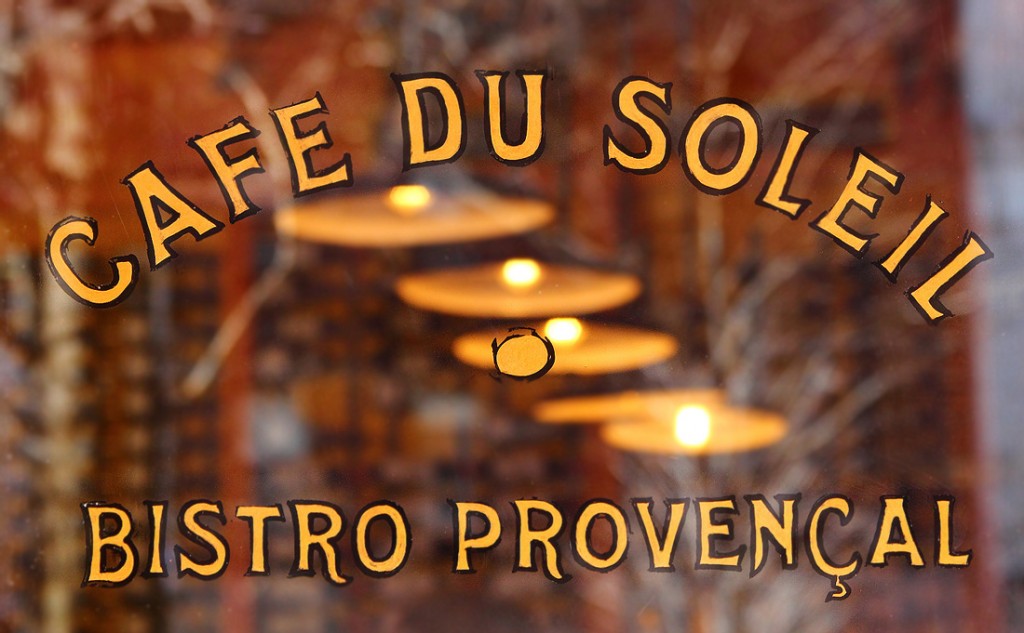 CATERING & PRIVATE EVENTS
Cafe Du Soleil is the perfect venue for your next private event.  With personalized menus and an ambiance that will make you feel as if you are sitting in France, Cafe Du Soleil will make your event better than you could have ever expected.  Cafe Du Soleil is suitable for a wide variety of events, including cocktail parties, weddings, corporate events, and special occasions and will meet all of your event needs.
As a full-service catering company, we will help make your next party, wedding, or corporate event memorable and care-free. Please visit our catering site, Voila Caterers NYC, to book your next event at the venue of your choice.
For Specialized Vegetarian & Vegan Catering, visit our dedicated website Vegan Catering where you will find a specialized menu to accommodate a full vegan selection.
Click below for more information or to schedule a consultation.